Dynamic text¶
The dynamic text field is an object that displays a text that is comming from a variable value. The text value is changing with the variable is changed, editing the part is not necessary to change the text content.
Create dynamic text¶
The text field can only be added to workspace from toolbar.
Note
If the toolbar is not displayed, it can be displayed from Settings > Display > Parts.
Dynamic text properties¶
Element part proterties can be displayed from information panel when the part is selected.
Note
If the information panel is not displayed, it can be displayed from Settings > Display > Information.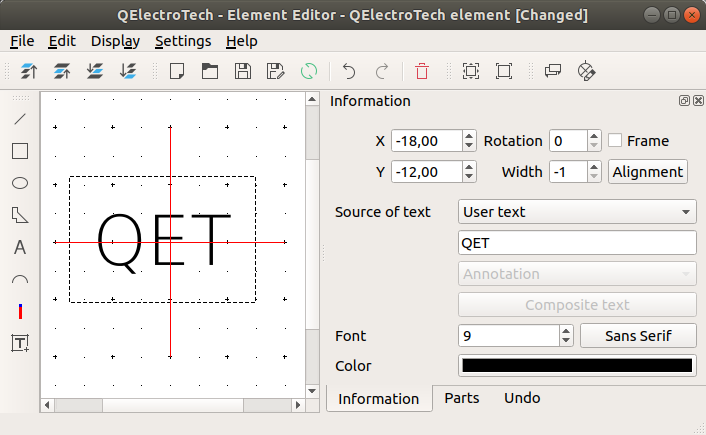 QElectroTech allows customizing different text properties:
Placement

Position

The dynamic text coordinates (x, y) can be defined.

Rotation

The text display angle can be defined in the range of 0 to 360 degrees.

Frame

The posibility to display the text inside a rectangle frame is provided.

Alignemnt

The text position inside the frame can be defined. Left, center or right and top, middle or bottom.

Content

Source

The source content can be user text (similar to static text), element information parameter or composite text.

Size

The text size can be defined.

Color

The text color can be choosed from RGB color code database.